Twin Peaks
Length: 8 miles round trip
Time: 6 - 8 hours
Best season: June - September






﹀﹀﹀﹀﹀﹀
❬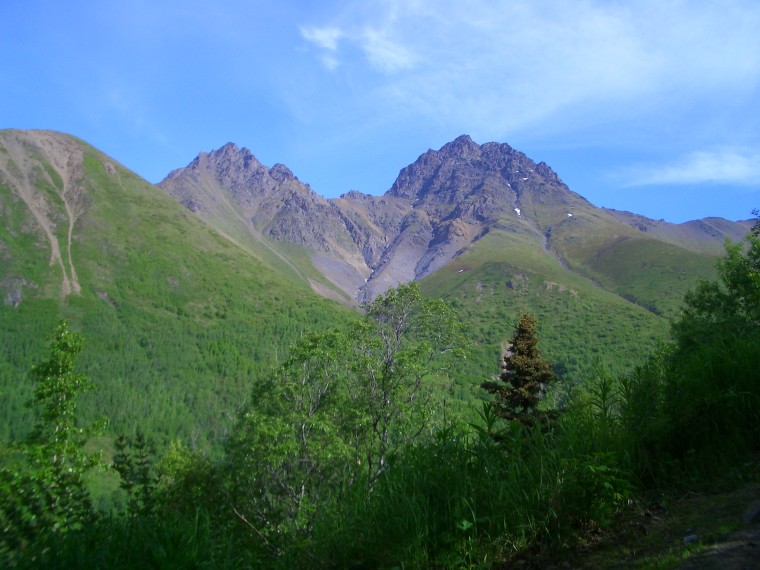 Twin Peaks. The trail leads to is the ridge on the right, not the dangerous section between the peaks themselves.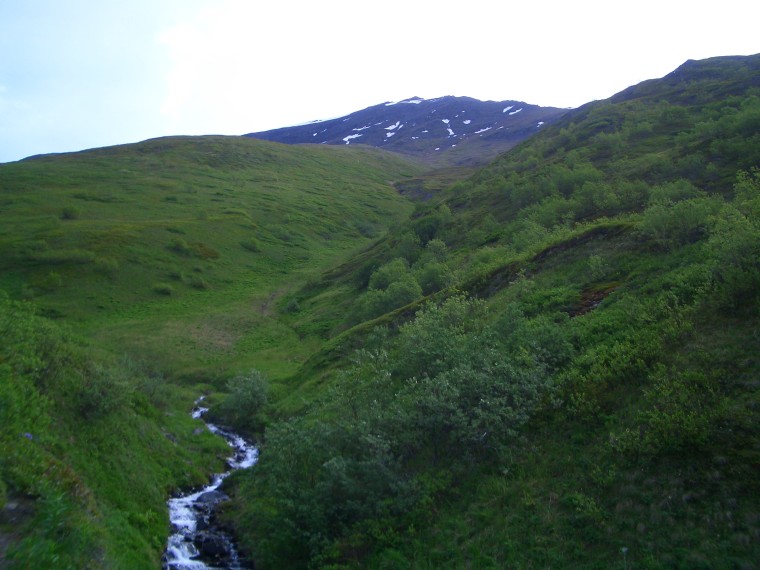 Make sure to take the route on the left at the bench, and cross the stream shown here. Otherwise you'll end up going to Pepper Peak.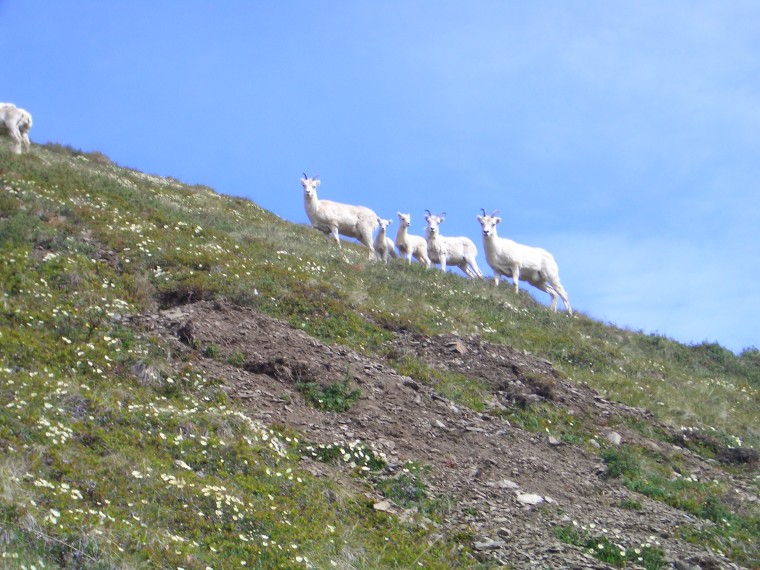 Dall sheep are everywhere on this trail.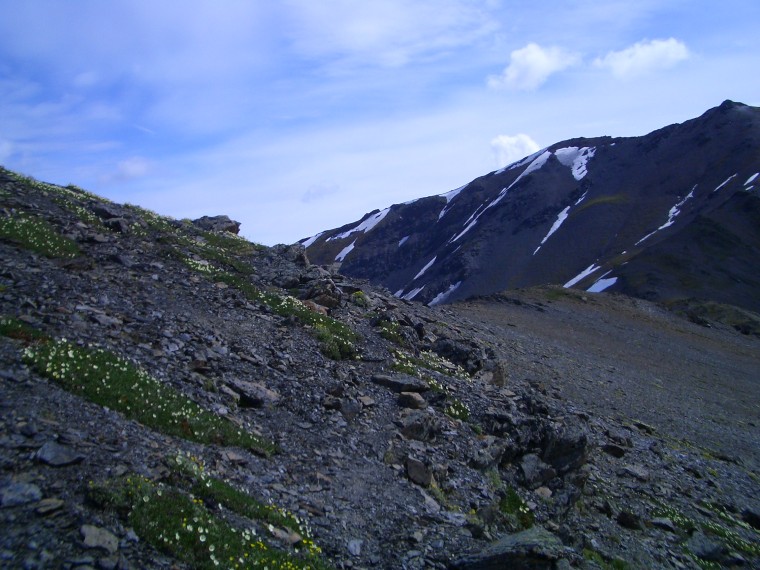 Looking right from the pass, the trail's destination. Pepper peak is the high point on the right.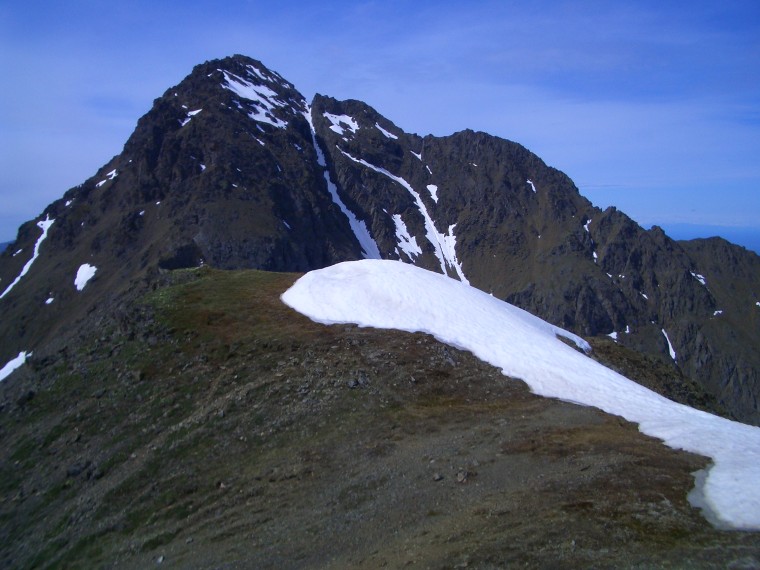 Looking at East Twin Peak from the pass. Climbing it is a difficult scramble, so be extra careful.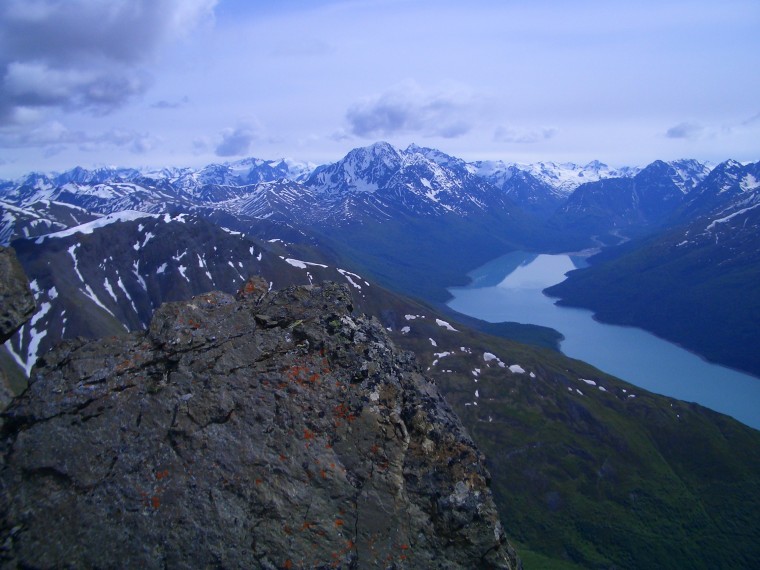 View from the top of East Twin Peak, overlooking Eklutna Lake and Bold Peak. The early trail can be seen on the bottom right.
❭
Trail description:
The Twin Peaks trail leads to East Twin Pass, a ridge to the East of the Twin Peaks. The trail to the pass starts alongside Eklutna Lake, and begins by winding its way up several switch-backs along a forested mountainside. Eventually, a bench is reached with a particularly good view of the lake. A short distance afterwards, the trail bends right and the peaks should come into view. The maintained trail ends when another bench is reached. There are 2 paths to choose at this point; take the left trail downhill to reach Twin Pass (the other trail goes right, up towards Pepper Peak). The trail then crosses a shallow stream, after which it continues upwards again. There are several sheep trails which can be misleading; make sure to continue strait up. Eventually the rocky pass is reached at the top. The ridge can then be followed to reach the eastern peak if desired (read below). From either vantage point, one can see a great view of Pioneer Peak, Bold Peak, Matanuska Peak, the Matsu valley, and Eklutna lake
Difficulty:
This is a tough trail due to the elevation gain alone. The switchbacks make it a little easier at first, but a good deal of the trail heads strait uphill. Also, climbing the eastern peak is somewhat dangerous; there's some noteworthy inclination and fairly loose rock involved. I do not recommended trying this unless you're fairly experienced and competent in doing so.
Directions:
From Anchorage, head north on the Glen Highway for roughly 26 miles and take the Eklutna exit. Head right, then turn immediately right at the T. From here go about half a mile and turn onto a road marked on the left for Eklutna Lake. Follow this road for several miles until passing a ranger station. Drive past the first parking area to where the road ends at a second. From here, follow the lakeside trail until reaching a sign marking the start of the Twin Peaks trail.
Additional Information:
The parking lot requires a $5.00 parking fee or a seasonal parking pass.