Pioneer Ridge
Length: 9 miles round trip
Time: 10 - 12 hours
Best season: June - September


﹀﹀﹀﹀﹀﹀
❬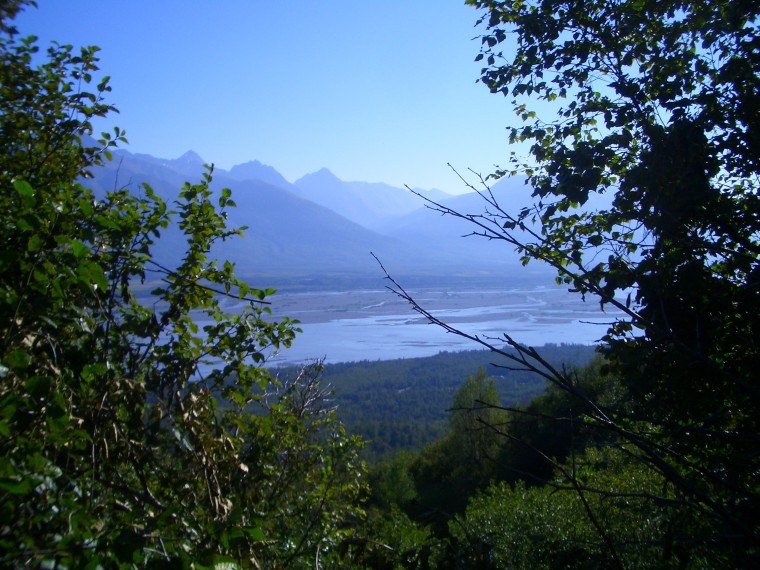 The early trail, with the Knik River in the background.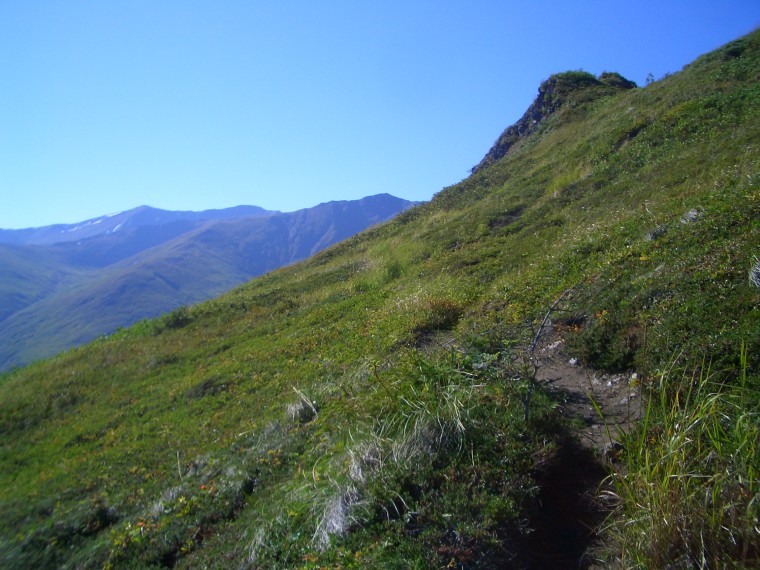 The forest begins to receed after the first bench is reached.
Here you can see the enormous Knik Glacier, with Mount Goode directly above, as well as Mount Marcus Baker, the highest peak in the chugach range.
South Pioneer Peak from the ridge, with North Pioneer peaking out behind.
View from the top of 6400 foot South Pioneer Peak.
A final picture of the mountain, taken on the way back down. The sun was getting low... and we started hiking around 9:00 am!
❭
Trail description:
An imposing, visually striking mountain when seen from Matanuska Valley, Pioneer Peak actually offers a non-technical route leading to its southern summit, via a ridge along the backside. The early trail remains heavily forested for the first few miles. The inclination remains steady as the trail winds its way over several switchbacks. As the trees begin to clear, the first of a series of 4 picnic tables is reached. From here on up there are several orange trail markers in place. Eventually, the second picnic table can be found on the right, directly across from an unusual section of level ground. The trail gradually becomes less steep soon afterwards. North and South Pioneer peaks finally come into view, with the third bench appearing off to the right about this same time. Pioneer Ridge will eventually be reached with the fourth and final bench just over the top. From here, an optional adventure is to hike a couple miles further to the top of South Pioneer Peak. Numerous sites can be seen from the ridge, including Bold Peak, Twin Peaks, Mount Marcus Baker, and the enormous Knik Glacier.
Difficulty:
This is likely the most strenuous hike I've done. It starts from roughly sea level and reaches 5300 ft Pioneer Ridge in just 4.5 miles. If the peak (6400 ft) is your goal, I would highly recommened making it an overnight trip. The ridge provides an excellent place to set up camp, as well as launch an assault on the peak the next day.
Directions:
From Anchorage, head north on the Glen Highway. Take the exit onto the Old Glen before reaching the Knik River. Follow this route until reaching the bridge, then continue along the mountainside by taking a right turn instead of crossing. Continue for about 5 miles and look for a parking area on the right, with a wooden sign indicating where the trail begins.
Additional Information:
Keep in mind that North Pioneer Peak (a far more technical climb requiring gear) should not be attempted via the route listed here.