Ship Lake
Length: 12 miles round trip
Time: 8 - 10 hours
Best season: May - September



﹀﹀﹀﹀﹀﹀
❬
The early powerline trail is used to maintain the powerlines which run through Chugach State Park.
Look for Hidden Valley on your left as you make your way up the powerline trail.
Ship lake, over a thousand feet below the overlook at the end of the trail.
The Ramp is an optional climb after reaching the overlook. Not easy, but the views it provides are remarkable.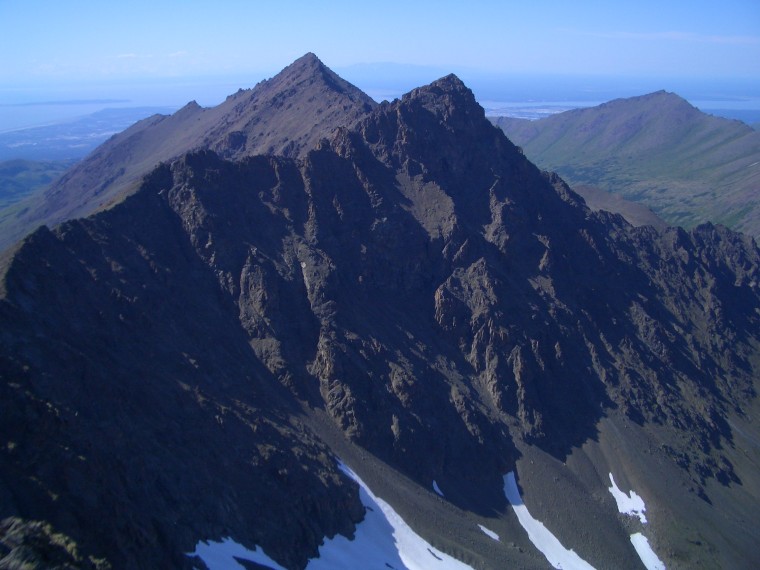 View from the top of The Ramp. Up front is Hidden Peak, with O'malley behind, and Mount Wolverine off to the right.
Ship lake is a beautiful emerald green.
❭
Trail description:
This hike encompasses Hidden Valley, Ship Lake, and the Ramp. The trail starts at the Glen Alps parking lot and follows the powerline trail. The path is very well traveled; follow it for about 2 miles, passing the first main turnoff on your left (towards O'malley), and continue on to the second main turnoff, towards a large U-shaped valley. Almost immediately after turning, there will be a small stream to cross, which is made easier by several large stones placed in sequence across the water. From here the trail winds winds it way up Hidden Valley through patches of trees and tundra, following a small stream for most of the way. There's also a hard to spot pond called Hidden Lake which can be found to the left around this time. The trail ends on a saddle towards the end of the valley, where one can see a gorgeous view of emerald-green Ship Lake below and the accompanying Ship Valley. At this point, if you choose, you can make your way down and visit the lake firsthand, or climb the Ramp on the left, a sharp peak with a steep, fairly even slope.
Difficulty:
A moderate hike due to length and the mild inclination. The ramp is a strenuous climb, however, and decending down to Ship Lake and back up, while worthwhile, is even more strenuous. If the lake is your destination, I recommend making this hike an overnighter.
Directions:
Head towards South Anchorage on the New Seward Highway. Take the O'malley exit and head towards the mountains. Follow O'malley for a few miles and turn right onto Hillside Drive. Turn onto Upper Huffman on your left shortly afterwards. This road T's-off; turn right onto Toilsome Hill Drive. This eventually becomes Glen Alps Road, which winds it's way up to the Glen Alps parking lot, where the trail begins.
Additional Information:
The parking lot requires a $5.00 parking fee or a seasonal parking pass.