Baldy and Blacktail
Length: 8 miles round trip
Time: 1 - 4 hours
Best season: May - September



﹀﹀﹀﹀﹀﹀
❬
View of Baldy from below
The radio tower, with Eagle River below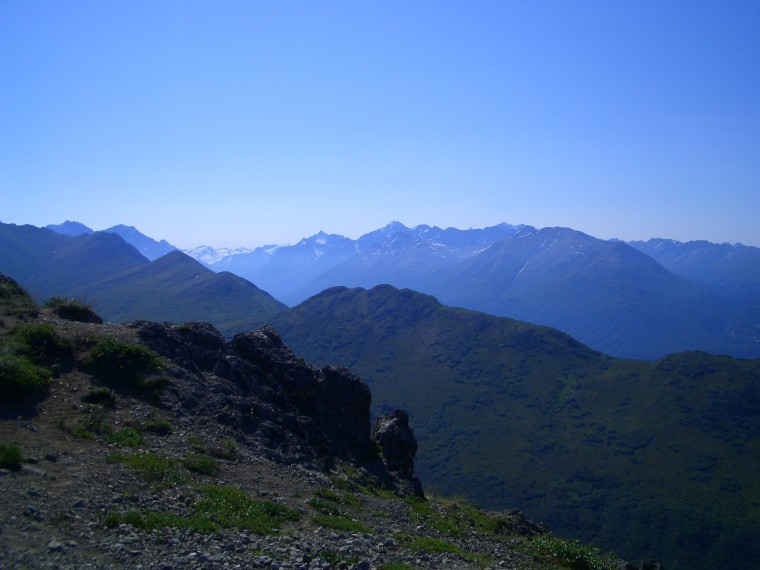 View from the top of Baldy. Eagle River Valley can be seen behind the smaller valley in front.
Blacktail Ridge. It can be easy later on to mistake several of the ridge's bumps as the final summit.
Lots of rocky sections along Blacktail Ridge. Here's my buddy David for some perspective.
View from the top of Blacktail Ridge.
❭
Trail description:
This trail leads to Baldy, a rounded bare mountaintop just outside of Eagle River, as well as Blacktail Ridge, a higher, rocky ridge further back. From the parking lot at the base, the trail makes it's way up forested terrain. A small radio antenna is located a few hundred feet up. Beyond this point the trees quickly disappear and the trail becomes more rocky. Eventually the top of Baldy is reached, with terrific views. From here, one can proceed further back to Blacktail Ridge. Much of the trail at this point is a fairly level walk. The inclination increases abruptly upon reaching the slope of Blacktail. Follow the ridge and meander around a few rocky "false summits" until reaching the true high point.
Difficulty:
Depends on how far you go. Overall pretty moderate. The first section accending Baldy is the hardest part, after that it's not too hard in comparison.
Directions:
From Anchorage, head towards Eagle River on the Glen highway. Take the "Eagle River Loop" exit and head into town. After crossing a bridge and a few intersections, the road will eventually began to turn left. As soon as it starts to curve, look for "W Skyline" on your right and turn. This somewhat windy road leads to the parking lot at the top, where the trail begins.
Additional Information:
Most people only go to the summit of Baldy; though I totally reccomened hiking to Blacktail Ridge if you're in the right mood. The scenery is great, and this route also serves as a starting point for reaching Vista and Roundtop.